Management of the professional sphere among French higher education teachers. Between obstacles to overcome and resources to capitalize on : what strategies?
La gestion de la sphère travail chez les enseignants du supérieur français. Entre obstacles à surmonter et ressources à capitaliser, quelles stratégies ?
The aim of this study is to understand the management of the work sphere of university teachers working in the French university system. This sphere is defined by the combination of three activities - research, pedagogy and collective responsibilities. Starting from the idea that the resources of this sphere are limited, as evidenced by a workload perceived as important, the activity model (Curie and Hajjar, 1987, 2000) was chosen in order to approach real activity (Leplat and Hoc, 1983; Yvon and Clot, 2001) of university teachers from the perspective of the resources, constraints and strategies chosen to achieve a possible balance between activities. A qualitative survey was carried out among 10 university teachers. The results show that resources exist, conducive to reconciling activities, while pointing out the existence of constraints conditioning numerous regulatory strategies.
Le but de cette étude est d'appréhender la gestion de la sphère travail des enseignants-chercheurs (EC) oeuvrant dans le système universitaire français. Cette sphère est définie par la combinaison de trois activités, la recherche, l'enseignement, les responsabilités collectives. Partant de l'idée que les ressources de cette sphère sont limitées, en témoigne une charge de travail perçue et reconnue comme importante, le modèle des activités (Curie et Hajjar, 1987, 2000) a été choisi afin d'aborder l'activité réelle (Leplat et Hoc, 1983 ; Yvon et Clot, 2001) des EC sous l'angle des ressources, contraintes et stratégies de régulation choisies pour parvenir à une possible conciliation entre activités. Une enquête qualitative a été menée auprès de 10 EC. Les résultats montrent que des ressources, propices à la conciliation entre activités existent, tout en signalant l'existence de contraintes conditionnant des stratégies de régulation nombreuses.
Fichier principal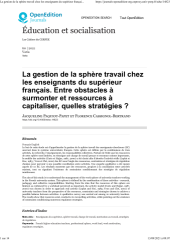 Paquiot-Papet, Cassignol-Bertrand, sphere travail EC éducation socialisation 2021.pdf (696.79 Ko)
Télécharger le fichier
Origin : Files produced by the author(s)