Between Here and There: Lyricism and Zen in Sinéad Morrissey's Japanese Poems
This article is devoted to the second section of Sinéad Morrissey's Between Here and There (2002), which gathers poems written during the Irish writer's two-year stay in Japan. The title of the collection alludes to the poet's position, poised between her discovery of Japanese Zen culture and the Western lyrical tradition she was steeped in during her youth in Ireland. In the light of seminal essays on lyricism (J.-M. Maulpoix, J.-C. Pinson, M. Ueda, P. Volsik) and a selection of inquiries into the spirit of Zen (R. H. Blyth, N. W. Ross, D. T. Suzuki, C. Jung, J. Pigeot), our aim is to explore the interactions fostered between both traditions, and the way in which their collusion generates a unique body of poems, as "two worlds split open to each other, stars spilling from each" ("Pearl"). Between attachment and impersonality, Sinéad Morrissey's Japan sequence cultivates the art of in-betweenness while advocating, in the poet's own words, "the tolerance of transitions".
Cette étude est dédiée à la seconde section de Between Here and There (2002), qui réunit des poèmes composés au cours des deux années durant lesquelles Sinéad Morrissey séjourna au Japon. Le titre du recueil fait allusion à la position qui fut celle de la poétesse, partagée entre sa découverte de la culture et de la spiritualité japonaises et la tradition lyrique dans laquelle elle avait jusqu'alors baigné. À la lumière d'essais fondateurs sur le lyrisme (J.-M. Maulpoix, J.-C. Pinson, M. Ueda, P. Volsik) et d'une sélection d'écrits visant à cerner l'esprit du Zen (R. H. Blyth, N. W. Ross, D. T. Suzuki, C. Jung, J. Pigeot), cet article a pour objectif d'explorer les relations complexes instaurées entre ces deux traditions et la manière dont leur rencontre génère un corpus de poèmes dans lesquels « deux mondes s'ouvrent l'un à l'autre, chacun semant une pluie d'étoiles » ("Pearl"). Entre attachement et impersonnalité, les poèmes japonais de Sinéad Morrissey épousent l'art de l'entre-deux tout en promouvant « la tolérance des transitions ».
Fichier principal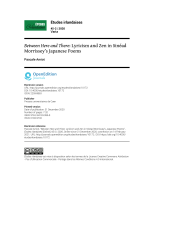 etudesirlandaises-10172.pdf (281.51 Ko)
Télécharger le fichier
Origin : Publisher files allowed on an open archive